Best Review - Top 5 Cat Breeds for New Owners
re you looking to add a furry feline friend to your life, but you're not sure how or where to start? Try here! Cats are very popular animal for first-time pet owners due to their self-grooming, gentle nature, and ability to live completely indoors, even in small apartments.
However, some cat breeds are more work than others, and some are more suitable for first-time owners than others. What's the best family cat? What's the easiest cat to keep in an apartment? What's the most sociable cat? What's the most rewarding cat to own? There are lots of answers to each question (because cats are great!), but this list should help you get started.
Cornish Rex
Cornish Rex cats are an excellent cat for new owners! They're not just beautiful and unique-looking, but friendly, frisky, and interactive. They are active, agile, and have many dog-like behaviors, like running to meet you at the door, following you around, and enviously eyeing the meat you eat!
Cornish Rexes are a curly shorthaired cat, and instead of the three layers of fur typical to cats, this breed only has one. They may require occasional at-home bathing, because despite their frequent grooming, they don't have enough hair to absorb the natural oils in their skin.
Typically, Cornish Rexes can only be found at a breeder's, but are moderately priced for such a fun-loving, feline family member. They do best in an environment where they have ample space to run around and frolic.
Ragdoll
The Ragdoll cat was named after the breed's sweet and calm disposition. This breed has a natural tendency to love and play gently, rarely bringing out its claws or teeth, which makes it a good family cat for families with very young children. They also tend to love their owners and want to follow them around, much like a dog!
Ragdoll cats have a thick coat of hair, so frequent brushing is a necessity. Also, since these cats are so soft and loving, they shouldn't be allowed outside, or around aggressive animals.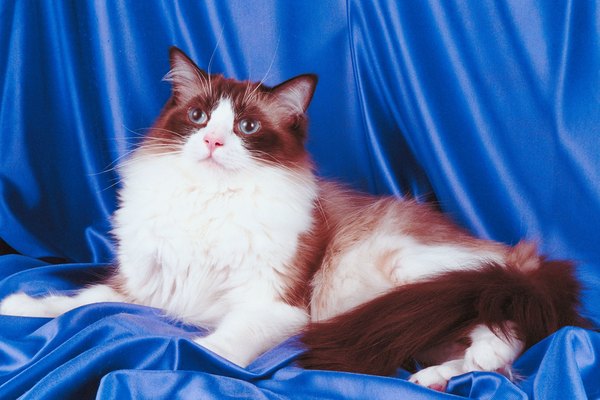 Shelter Cats
There's maybe no better feeling than the feeling of doing good deeds. And adopting a shelter cat is one of the best! Shelter cats come from a variety of places, experiences, and owners, so their personalities and habits greatly vary, too.
Both shelter kittens and shelter cats are likely to be shy and guarded at first, but with the love, patience, and respect from an owner, these animals can transform into frisky best friends and sweet lap cats.
Try visiting a shelter and see if any of these cats or kittens connect with you!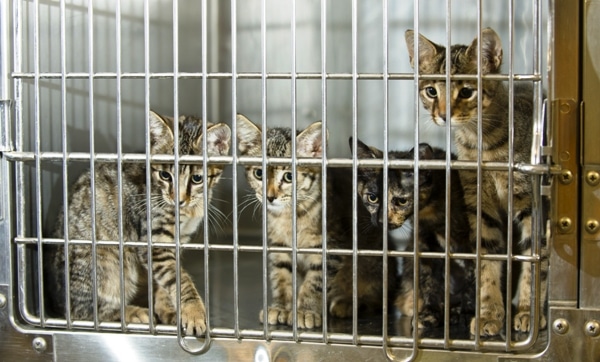 Russian Blue
The Russian Blue cat is ideal for apartment life, and is a gentle, reserved companion. These cats need time to trust their owners, and will often be shy with strangers. However, after bonding with a human, the Russian Blue is a loving lap cat, and also enjoys a bit of daily play time.
For those working out of the house, the Russian Blue enjoys alone-time, and will not be morose when an owner is gone during the day. Also, their gorgeous coats do not require frequent brushing, as this cat is rather self-sufficient in its care.
Maine Coon
The Maine Coon cat is primarily known for its size. These felines can often weigh up to 20 pounds and present themselves as even larger due to their fluffy coat! These cats have earned the nickname "Gentle Giants" due to their kindness and love of humans.
Maine Coons do well in an indoor-outdoor environment, especially in cold places! Their long fur keeps them warm, and their large, tufted paws allow them to gently trot across snow. They're also great at catching mice!
Do you like this top?

Try visiting your local animal shelter or nearby cat breeders to start meeting some of these felines today!
Welcome to Best-Reviewer.com
Your best site for top lists
> You are looking for best products, movies?
> You want to publish your own top lists?
> You want to earn more money online?
> You want to build backlinks to your site/blog?
... Then you have come to the right place!
Yes! I want to register now!
Registered users browse Best-Reviewer.com ad-free.
This
Top 5 Cat Breeds For New Owners
has been created by our member
Holland Cox
.
If you are a Google AdSense Publisher, you can
create your own top reviews
and
increase your AdSense earnings
,
Holland Cox
will be your referrer.
Keywords:
If you like this top, share it with others.
Direct link to this top review:
HTML code to add to your site / blog:
BBCODE to add on a forum:
Finally, click here to send this top review by email.